Petersfield Lions Club
Diabetes
in association with
Diabetes UK - South East
— Living with Type 1 Diabetes
Due to the ongoing pandemic we still can't hold face-to-face events. However, after the benefits achieved from our previous on-line events, we know there is still a need and interest for engaging and learning with others, so we've organised another virtual event.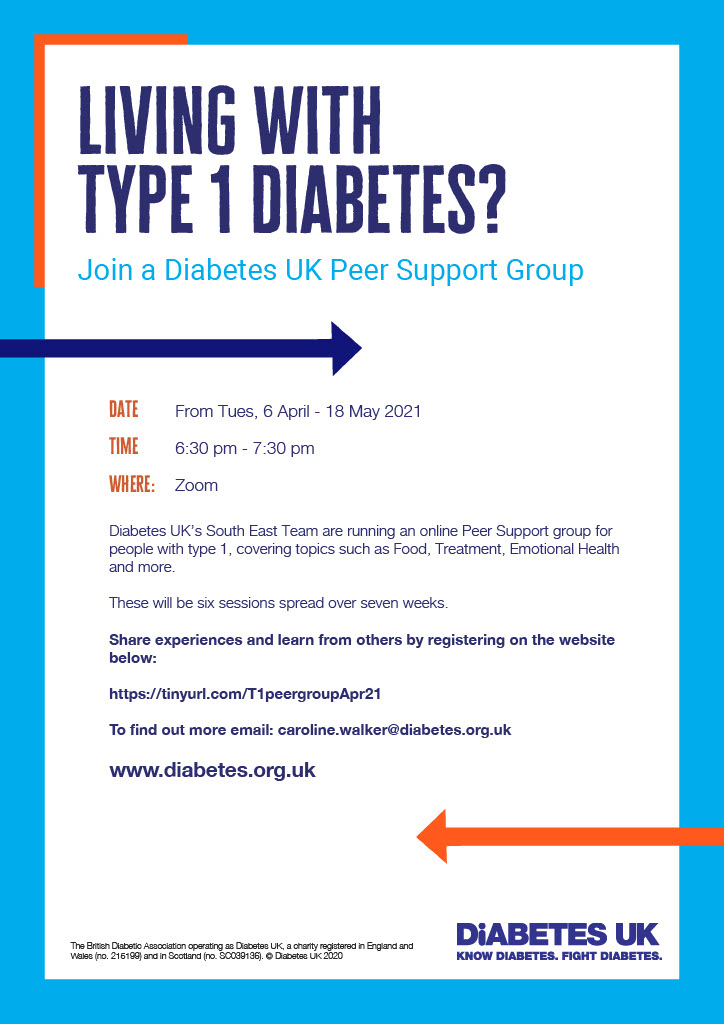 Below you will find a link to the latest event we have organised, please take a look.
All events will be via Zoom. 
https://tinyurl.com/T1peergroupApr21
If you are unfamiliar with Zoom and would like some support on how it works then please let us know or to find out more contact : caroline.walker@diabetes.org.uk
Please note that our regional office is presently closed and all staff are working from home so please do not ring the regional office number.
We hope to see you at the event.
— "Know Your Risk" of Type 2 Diabetes
Are you concerned about your risk factors of developing Type 2 Diabetes and heightened risk of complications with Covid-19?  
Would you like to know more about Type 2 Diabetes or do your own 'Know Your Risk' assessment to find out if you are at risk of Type 2 Diabetes?
You can carry out your own Diabetes 'Know Your Risk' assessment by means of an on-line assessment. The tool will ask you for sensitive personal data, for example about your health or ethnicity. This will help provide to you the most relevant information. Diabetes UK promise to store your sensitive personal data securely and keep it confidential. Should the online assessment suggest that you are 'Moderate' to 'High' risk you will be directed to self-refer to your local 'Healthier You' NHS Diabetes Prevention Program where you will be given advice on how to minimise your risk.
To date 1,943,691 assessments have been completed using this tool.
Select the link below for the self assessment:-
https://riskscore.diabetes.org.uk/
Finding out your risk of Type 2 diabetes only takes a few minutes. It could be the most important thing you do today.
— A letter from a Petersfield resident

Since posting about World Diabetes Day, we have received the following letter from a Petersfield resident who, only thanks to the 'Know Your Risk' assessment, found out they had Type 2 Diabetes, we have kept their identity anonymous.
=====
MY EXPERIENCE WITH TYPE 2 DIABETES
Several months ago I had a persistent pain in my shoulder. I went to the doctor and was subsequently recommended for a blood test. A short time after I was contacted by my G.P. who said that it looked as though I had TYPE 2 DIABETES. I was referred to a specialist diabetic nurse who, after a consultation and another blood test. She questioned me about lifestyle, eating and drinking habits and weighed and measured me in order to establish my BMI (BODY MASS INDEX]. This was too high. The latter is easy to establish – height and weight measurement on the DIABETES UK WEBSITE, if age and ethnicity is taken into account, the risk is established and your current risk.
What came to light, predominantly was my eating habits, gradual increase in weight and waist measurement.
So what was I doing wrong?
Eating too much bread
Drinking alcohol regularly (not excessively)
Eating bananas daily and citrus fruit in the evening
Eating snacks [ crisps, biscuits between meals).
Driving, not walking
The result of this was a creeping up of my blood sugar levels without my realizing it.
The consumption of sugar also resulted in me feeling tired and also sparked the need for carbs and sugar.
Result:-TYPE 2 DIABETES
I took the following action
Reduced my carbs – Potatoes, bread, biscuits and flour based products
Reduced alcohol and only consumed at weekends and in small amounts as a treat. I walked instead of taking the car. After 3 months I was at medium risk and. I have to visit the nurse every six months low risk.
If diabetes is not treated, this will result in:
Heart disease, nerve damage, blindness, kidney failure and amputations and probably an early death.
=====