Petersfield Lions
Club Donating
Donating to petersfield Lions Club (CIO)
Petersfield Lions Club (CIO) fund raise for various Local good causes as well as National & International. Usually via various events from Quiz Nights and Stalls at Festivals & Fetes to Sponsored events, to name a few. 
Last year, 2020 and now continuing into 2021, has been more of a challenge, however, we have continued with our fundraising by going online.
We currently have various ongoing projects with separate GoFundMe pages.
Our other current fundraisers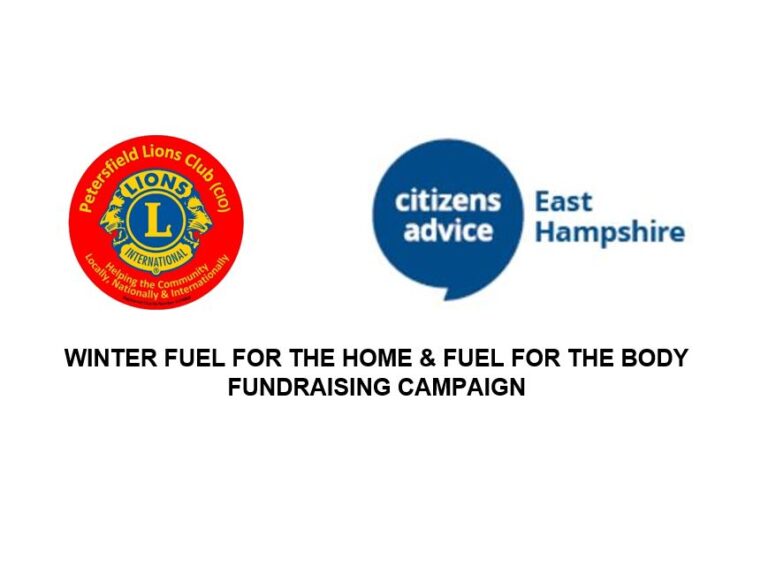 The aim is to help people experiencing financial hardship, resulting in them struggling to pay their fuel or food bills.
Do you receive the Government's Winter Fuel Payment but have no real need for it?
If so, please consider donating some or all of it to Petersfield Lions Clubs "Winter Fuel for the Home & Fuel for the Body Fundraising Campaign".
Through this fundraising, we are able to provide the funds for Citizens Advice East Hampshire to assist people this year experiencing financial hardship with both fuel & food.
Any money will be paid from Petersfield Lions Club directly to the Citizens Advice who will arrange payments.
All of the communication is in strict confidence, Petersfield Lions Club will have no knowledge of names or circumstances.
We can accept donations either directly via the GoFundMe page
or
by post, making cheques payable to
"LIONS CLUB OF PETERSFIELD (CIO)"
to:-                                   Petersfield Lions Club (CIO)
                                           Winter Fuel Campaign
                                           Winton House Centre
                                           18 High Street
                                           Petersfield
                                           Hampshire
                                           GU32 3JL
(All enquiries for help must be made directly to Citizens Advice, NOT Petersfield Lions Club)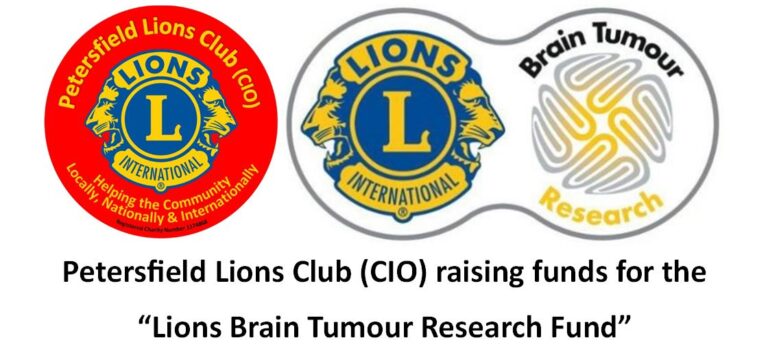 Petersfield Lions Club (CIO) are helping to raise money for the "Lions Brain Tumour Research Fund."
On 12th March 2019 a joint partnership was entered into with Lions Clubs of the British Isles and Brain Tumour Research.  The Lions pledged to raise  £1-Million over four years to support BTR.  The money raised by Lions will go towards purchasing equipment and funding research.
 Brain tumours kill more children and adults under the age of 40 than any other cancer.  There are over 120 different types of brain tumour and each one needs its own cure. Only 1% of the national spend on cancer research has been allocated to brain tumour.
Petersfield Lions Club (CIO) is committed to raising funds to help this national cause.  Every donation will help and we thank you in advance for your contribution.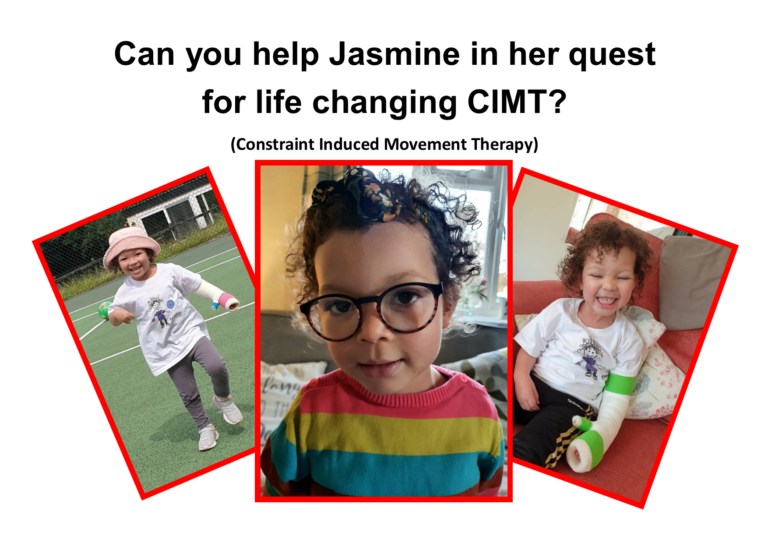 Shortly after Jasmine was born in 2017, she suffered a huge stroke which damaged 50% of her brain. She has progressed well but now needs CIMT (Constraint Induced Movement Therapy) which could be life changing for her, however, this comes at a huge cost, £5000.
Petersfield Lions Club (CIO) are helping Jasmine in her quest to raise this money.
This is Jasmine's story:-
Jasmine suffered a huge stroke which damaged 50% of her brain shortly after she was born in 2017. She spend 5 days on life support at Southampton General Hospital. Her Mummy and Daddy were told she may never walk or talk and to expect learning difficulties.
We are delighted that this strong, determined and gorgeous little girl has progressed incredibly. Jasmine walks well and speaks beautifully. Behind the scenes there is daily physio, occupational therapy and support of the incredible Rainbow Centre with conductive education.
Hurdles continue for Jasmine and her next focus is to encourage the use of her right hand so she can use it as a functional hand, with the right therapy, hopefully she will be able to use it more effectively.
That therapy is CIMT— Constraint Induced Movement Therapy and comes at a huge cost, £5000 for a 3 week course at a clinic in Essex which has been recommended for Jasmine. This could be life changing for Jasmine, but she needs your help.