Petersfield Lions Club in association with Citizens Advice East Hampshire
Winter fuel & food
campaign
petersfield lions Annual
Winter Fuel & Food Fundraising Campaign
— Can you spare some or all of your Government Winter Fuel payment?


Petersfield Lions are launching their Annual Winter Fuel & Food Fundraising Campaign.
Over the last few years, we have donated thousands of pounds to those in need in our local area. A large proportion of this is due to the generosity of those pensioners who are not in need of all or some of the Government allowance that they receive in November and December.
This year is especially difficult due to the fuel price rises and the increased cost of food.
All monies received will be distributed via The Citizens Advice East Hampshire to those who seek financial advice and help.
If you are able to help us in our cause, you can donate via our
GoFundMe
page or send a cheque to Winton House, Petersfield or deliver it by hand to the office.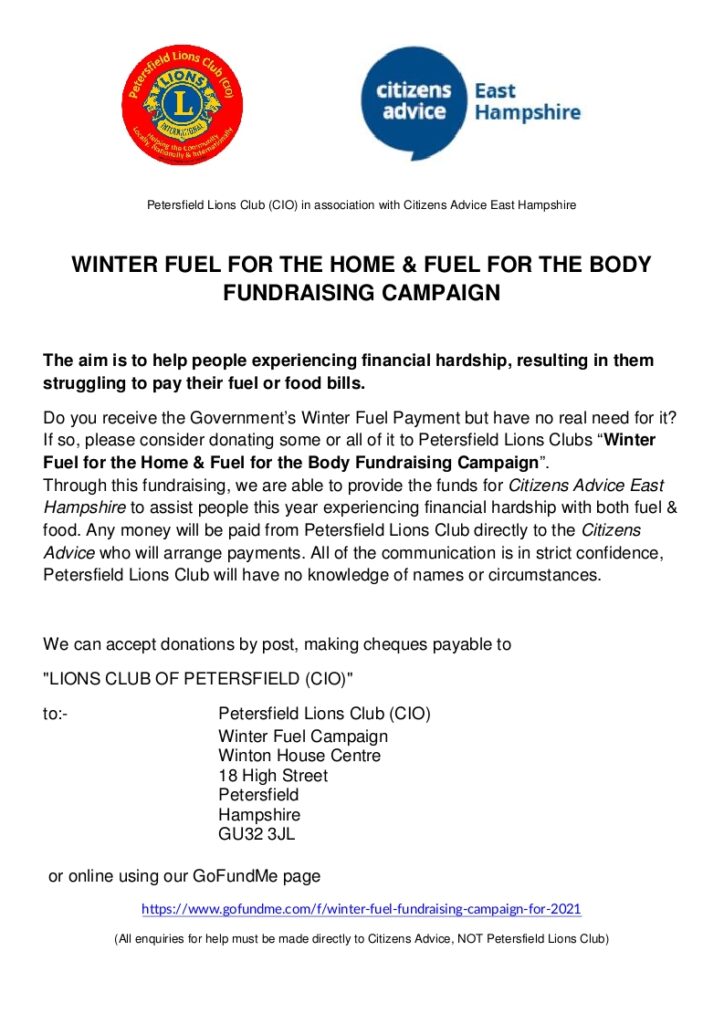 — Are you experiencing financial hardship, resulting in you struggling to pay your winter fuel or food bills?

Citizens Advice East Hampshire may be able to help you and will be happy to discuss your situation and needs in strict confidence, using funds provided by the Petersfield Lions Club (CIO) who will have no knowledge of your name or circumstances.
If you are one of the families who are in financial difficulties, you can contact Citizens Advice East Hampshire on 0808 278 7901 (free line)
Any money will be paid from Petersfield Lions Club directly to the Citizens Advice who will make payment arrangements with you. The money has been generously donated by Petersfield pensioners who have received the Government's Winter Fuel Payment but have no real need for it.